Home || Diesel Engines ||Boilers||Feed Systems ||Steam Turbines ||Fuel Treatment ||Pumps ||Refrigeration ||
Function of feed pump in a boiler feed system / steam turbines
The feed pump raises the feedwater to a pressure high enough for it to enter the boiler. For auxiliary boilers, where small amounts of feedwater are pumped, a steam-driven reciprocating positive displacement pump may be used. Another type of feed pump often used on package boiler installations is known as an 'electro feeder'. This is a multi-stage centrifugal pump driven by a constant speed electric motor. The number of stages is determined by the feed quantity and discharge pressure.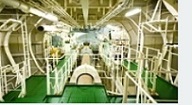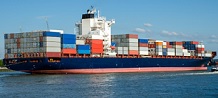 Steam turbine-driven feed pumps are usual with high-pressure watertube boiler installations. A typical turbo-feed pump is shown in Figure above. The two-stage horizontal centrifugal pump is driven by an impulse turbine, the complete assembly being fitted into a common casing.

The turbine is supplied with steam directly from the boiler and exhausts into a back-pressure line which can be used for feed heating. The pump bearings are lubricated by filtered water which is tapped off from the first-stage impeller. The feed discharge pressure is maintained by a governor, and overspeed protection trips are also provided.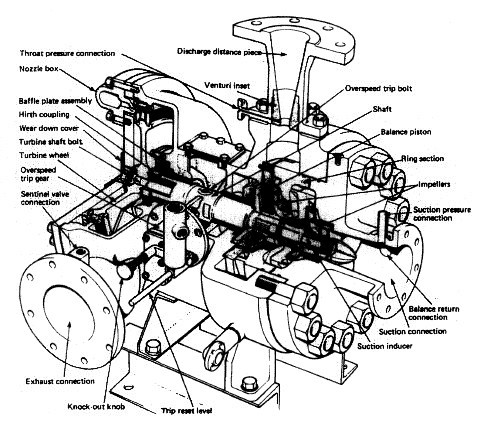 Fig:Boiler feed pump



Summarized below marine boiler detail Info pages:


































Related Info:

Closed feed system for an auxiliary boiler - operating principle

Open feed system for an auxiliary boiler - how it works

Auxiliary Feed systems for boilers and steam turbines

Function of condenser in a feed system for boiler and steam turbine

How De-aerator works in a boiler feed system

Heat exchangers in a boiler feed system / steam turbines

Boiler feed operation and maintenance

General arrangement for marine boiler

Water tube boilers

Fire tube boilers

The use of boiler mountings

Combustion process - supply of air

Purity of boiler feedwater

Boiler feed pump operational safety

Boiler feedwater treatment

The steam to steam generator

Combustion process - supply of fuel oil

Safety valves

Boiler water level control -operational safety

Water level gauges

Boiler operation -additional safety

Double evaporation boilers

Exhaust gas heat exchangers

Fuel oil burning process - various design burners

Ordinary spring-loaded Boiler safety valve

Requirement for various boiler types on board cargo ships

Safety precautions for working with marine boiler

Exhaust gas heat exchangers

Boiler arrangement - combustion process - supply of air

How to control combustion in a marine boiler

Pressure jet burner,Rotating cup burner,Steam blast jet burner & Air register for side fired boiler



Marine machineries - Useful tags

Marine diesel engines ||Steam generating plant ||Air conditioning system ||Compressed air ||Marine batteries ||Cargo refrigeration ||Centrifugal pump ||Various coolers ||Emergency power supply ||Exhaust gas heat exchangers ||Feed system ||Feed extraction pump || Flow measurement || Four stroke engines || Fuel injector || Fuel oil system || Fuel oil treatment ||Gearboxes || Governor || Marine incinerator || Lub oil filters || MAN B&W engine || Marine condensers || Oily water separator || Overspeed protection devices || Piston & piston rings || Crankshaft deflection || Marine pumps || Various refrigerants || Sewage treatment plant || Propellers || Power Plants || Starting air system || Steam turbines || Steering gear || Sulzer engine || Turbine gearing || Turbochargers || Two stroke engines || UMS operations || Drydocking & major repairs || Critical machinery || Deck machineries & cargo gears || Control and instrumentation ||Fire protection ||Engine room safety ||





Machinery Spaces.com is about working principles, construction and operation of all the machinery items in a ship intended primarily for engineers working on board and those who working ashore . For any remarks please Contact us

Copyright © 2010-2016 Machinery Spaces.com All rights reserved.
Terms and conditions of use
Read our privacy policy|| Home page||