Machinery Spaces.com Home || Diesel engines ||Boilers||Feed systems ||Steam turbines ||Fuel treatment ||Pumps ||Valves ||Refrigeration ||



How to control water level in a marine boiler ?



Modern high-pressure watertube boiler
: A modern high-pressure, high-temperature watertube boiler holds a small quantity of water and produces large quantities of steam. Very careful control of the drum water level is therefore necessary. The reactions of steam and water in the drum are complicated and require a control system based on a number of measured elements.



When a boiler is operating the water level in the gauge glass reads higher than when the boiler is shut down. This is because of the presence of steam bubbles in the water, a situation which is accepted in normal practice. If however there occurs a sudden increase in steam demand from the boiler the pressure in the drum will fail.

Some of the water present in the drum at the higher pressure will now 'flash off and become steam. These bubbles of steam will cause the drum level to rise. The reduced mass of water in the drum will also result in more steam being produced, which will further raise the water level. This effect is known as "swell', A level control system which used only level as a measuring element would close in the feed control valve—when it should be opening it.

When the boiler load returns to normal the drum pressure will rise and steam bubble formation will reduce, causing a fall in water level. Incoming colder feed water will further reduce steam bubble formation and what is known as 'shrinkage' of the drum level will occur.

The problems associated with swell and shrinkage are removed by the use of a second measuring element, 'steam flow'. A third element, 'feed water flow', is added to avoid problems that would occur if the feed water pressure were to vary.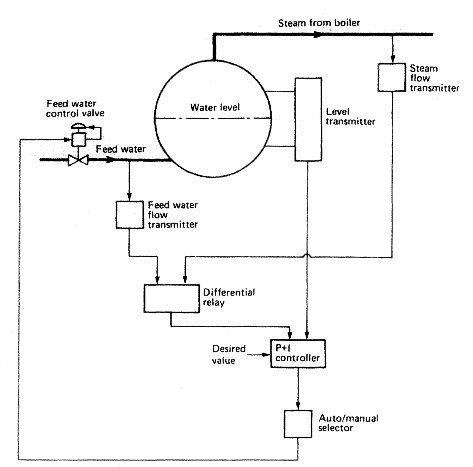 Fig:Boiler water level control


A three element control system is shown in Figure . The measured variables or elements are 'steam flow', 'drum level' and 'feed water flow'. Since in a balanced situation steam flow must equal feed flow, these two signals are compared in a differential relay. The relay output is fed to a two-term controller and comparator into which the measured drum level signal is also fed. Any deviation between the desired and actual drum level and any deviation between feed and steam flow will result in controller action to adjust the feed water control valve. The drum level will then be returned to its correct position.

A sudden increase in steam demand would result in a deviation signal from the differential relay and an output signal to open the feed water control valve. The swell effect would therefore not influence the correct operation of the control system. For a reduction in steam demand, an output signal to close the feedwater control valve would result, thus avoiding shrinkage effects. Any change in feed water pressure would result in feed water control valve movement to correct the change before the drum level was affected.



Summarized below marine boiler detail Info pages:


































Marine machineries - Useful tags

Marine diesel engines ||Steam generating plant ||Air conditioning system ||Compressed air ||Marine batteries ||Cargo refrigeration ||Centrifugal pump ||Various coolers ||Emergency power supply ||Exhaust gas heat exchangers ||Feed system ||Feed extraction pump || Flow measurement || Four stroke engines || Fuel injector || Fuel oil system || Fuel oil treatment ||Gearboxes || Governor || Marine incinerator || Lub oil filters || MAN B&W engine || Marine condensers || Oily water separator || Overspeed protection devices || Piston & piston rings || Crankshaft deflection || Marine pumps || Various refrigerants || Sewage treatment plant || Propellers || Power Plants || Starting air system || Steam turbines || Steering gear || Sulzer engine || Turbine gearing || Turbochargers || Two stroke engines || UMS operations || Drydocking & major repairs || Critical machinery || Deck machineries & cargo gears || Control and instrumentation ||Fire protection ||Engine room safety ||






Machinery Spaces.com is about working principles, construction and operation of all the machinery items in a ship intended primarily for engineers working on board and those who working ashore . For any remarks please Contact us

Copyright © 2010-2016 Machinery Spaces.com All rights reserved.
Terms and conditions of use
Read our privacy policy|| Home page||