Home || Diesel Engines ||Boilers||Feed Systems ||Steam Turbines ||Fuel Treatment ||Pumps ||Refrigeration ||
Feedwater Treatment for Marine Boilers
Modern high-pressure, high-temperature marine boilers with their large steam output require very pure feedwater. Feedwater treatment deals with the various scale and corrosion causing salts and entrained gases by suitable chemical treatment. This is achieved as follows:

1. By keeping the hardness salts in a suspension in the solution to prevent scale formation.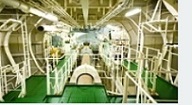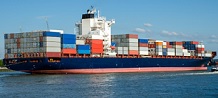 2. By stopping any suspended salts and impurities from sticking to the heat transfer surfaces.

3. By providing anti-foam protection to stop water carry-over.

4. By eliminating dissolved gases and providing some degree of alkalinity which will prevent corrosion.

The actual treatment involves adding various chemicals into the feedwater system and then testing samples of boiler water with a test kit. The test kit is usually supplied by the treatment chemical manufacturer with simple instructions for its use.

For auxiliary boilers the chemicals added might be lime (calcium hydroxide) and soda (sodium carbonate). Alternatively caustic soda (sodium hydroxide) may be used on its own.

For high-pressure watertube boilers various phosphate salts are used, such as trisodium phosphate, disodium phosphate and sodium metaphosphate. Coagulants are also used which combine the scaleforming salts into a sludge and stop it sticking to the boiler surfaces. Sodium aluminate, starch and tannin are used as coagulants. Final de-aeration of the boiler water is achieved by chemicals, such as hydrazine, which combine with any oxygen present.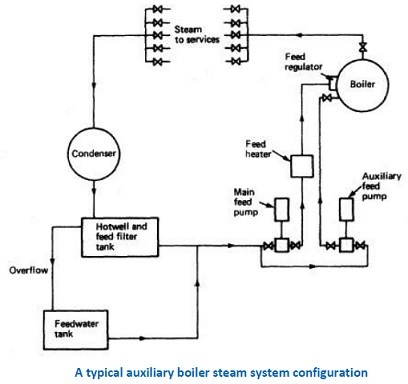 Auxiliary boiler steam system



Summarized below marine boiler detail Info pages:


































Related Info:

Exhaust gas heat exchangers

Requirement for various boiler types on board cargo ships

General arrangement for marine boiler

Water tube boilers

Fire tube boilers

The use of boiler mountings

Combustion process - supply of air

Purity of boiler feedwater

Boiler feed pump operational safety

Boiler feedwater treatment

The steam to steam generator

Combustion process - supply of fuel oil

Safety valves

Boiler water level control -operational safety

Water level gauges

Boiler operation -additional safety

Double evaporation boilers

Exhaust gas heat exchangers

Fuel oil burning process - various design burners

Ordinary spring-loaded Boiler safety valve

Requirement for various boiler types on board cargo ships

Safety precautions for working with marine boiler

Exhaust gas heat exchangers

Boiler arrangement - combustion process - supply of air

How to control combustion in a marine boiler

Pressure jet burner,Rotating cup burner,Steam blast jet burner & Air register for side fired boiler

Safety precautions for working with marine boiler



Marine machineries - Useful tags

Marine diesel engines ||Steam generating plant ||Air conditioning system ||Compressed air ||Marine batteries ||Cargo refrigeration ||Centrifugal pump ||Various coolers ||Emergency power supply ||Exhaust gas heat exchangers ||Feed system ||Feed extraction pump || Flow measurement || Four stroke engines || Fuel injector || Fuel oil system || Fuel oil treatment ||Gearboxes || Governor || Marine incinerator || Lub oil filters || MAN B&W engine || Marine condensers || Oily water separator || Overspeed protection devices || Piston & piston rings || Crankshaft deflection || Marine pumps || Various refrigerants || Sewage treatment plant || Propellers || Power Plants || Starting air system || Steam turbines || Steering gear || Sulzer engine || Turbine gearing || Turbochargers || Two stroke engines || UMS operations || Drydocking & major repairs || Critical machinery || Deck machineries & cargo gears || Control and instrumentation ||Fire protection ||Engine room safety ||



Machinery Spaces.com is about working principles, construction and operation of all the machinery items in a ship intended primarily for engineers working on board and those who working ashore . For any remarks please Contact us

Copyright © 2010-2016 Machinery Spaces.com All rights reserved.
Terms and conditions of use
Read our privacy policy|| Home page||