Home || Diesel Engines ||Boilers||Feed Systems ||Steam Turbines ||Fuel Treatment ||Pumps ||Refrigeration ||
Function of heat exchangers in a boiler feed system / steam turbines
The gland steam condenser, drains cooler and low-pressure feed heater are all heat exchangers of the shell and tube type. Each is used in some particular way to recover heat from exhaust steam by heating the feedwater which is circulated through the units.

The gland steam condenser collects steam, vapour and air from the turbine gland steam system. These returns are cooled by the circulating feed water and the steam is condensed. The condensate is returned to the system via a loop seal or some form of steam trap and any air present Is discharged into the atmosphere. The feedwater passes through U-tubes within the shell of the unit.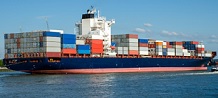 The drains cooler receives the exhaust drains from various auxiliary services and condenses them: the condensate is returned to the feed system. The circulating feedwater passes through straight tubes arranged in tube plates in the drains cooler.

Baffles or diaphragm plates are fitted to support the tubes and also direct the flow of the exhaust drains over the outside surface of the tubes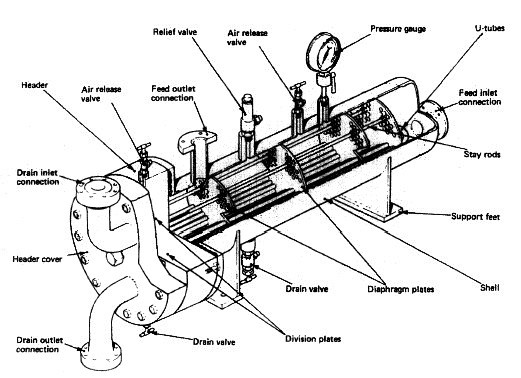 Fig: Feed system drains cooler


The low-pressure feed heater is supplied with steam usually bled from the low-pressure turbine casing. The circulating feed is heated to assist in the de-aeration process. The bleeding-off of steam from the turbine improves plant thermal efficiency as well as reducing turbine blade heights in the final rows because of the reduced mass of steam flowing. Either straight or U-tube construction may be used with single or multiple passes of feedwater.


Summarized below more guidance for marine feed system:



More .....



More.....



More .....



More .....



More .....

Boiler feed operation and maintenance
Extraction pumps should be checked regularly to ensure that the sealing arrangements are preventing air from entering the system. It is usual with most types of glands to permit a slight leakage of water to ensure lubrication of the shaft and the gland.

More .....



More .....













Marine machineries - Useful tags

Marine diesel engines ||Steam generating plant ||Air conditioning system ||Compressed air ||Marine batteries ||Cargo refrigeration ||Centrifugal pump ||Various coolers ||Emergency power supply ||Exhaust gas heat exchangers ||Feed system ||Feed extraction pump || Flow measurement || Four stroke engines || Fuel injector || Fuel oil system || Fuel oil treatment ||Gearboxes || Governor || Marine incinerator || Lub oil filters || MAN B&W engine || Marine condensers || Oily water separator || Overspeed protection devices || Piston & piston rings || Crankshaft deflection || Marine pumps || Various refrigerants || Sewage treatment plant || Propellers || Power Plants || Starting air system || Steam turbines || Steering gear || Sulzer engine || Turbine gearing || Turbochargers || Two stroke engines || UMS operations || Drydocking & major repairs || Critical machinery || Deck machineries & cargo gears || Control and instrumentation ||Fire protection ||Engine room safety ||





Machinery Spaces.com is about working principles, construction and operation of all the machinery items in a ship intended primarily for engineers working on board and those who working ashore . For any remarks please Contact us

Copyright © 2010-2016 Machinery Spaces.com All rights reserved.
Terms and conditions of use
Read our privacy policy|| Home page||