Home || Diesel Engines ||Boilers||Feed Systems ||Steam Turbines ||Fuel Treatment ||Pumps ||Refrigeration ||
Auxiliary Feed Systems for Marine Boilers and Steam Turbines
How the feed system works for ships machinery? The feed system completes the cycle between boiler and turbine to enable the exhausted steam to return to the boiler as feedwater. The arrangements for steam recovery from auxiliaries and ship services may form separate open or closed feed sysems or be a part of the main feed system.

Where, for instance, steam-driven deck auxiliaries are in use, a separate auxiliary condenser operating at about atmospheric pressure will condense the incoming steam . An extraction pump will supply the condensate to an air ejector which will return the feedwater to the main system at a point between the gland steam condenser and the drains cooler.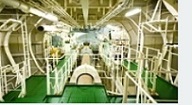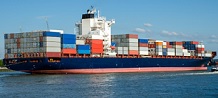 A recircuiating line is provided for low-load operation and a level controller will maintain a condensate level in the condenser. Where contamination of the feedwater may be a problem, a separate feed system for a steam-to-steam generator can be used .

Low-pressure steam from the generator is supplied to the various services, such as fuel oil heating, and the drains are returned to the hotwell.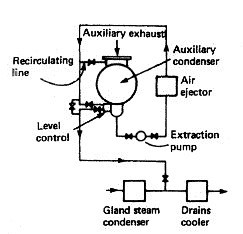 Auxiliary feed system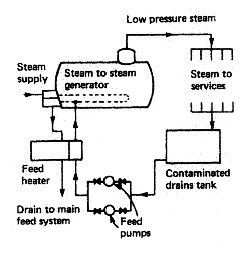 Steam to steam generator feed system


Feed pumps supply the feed to a feed heater, which also acts as a drains cooler for the heating steam supplied to the generator. From the feed heater, the feedwater passes into the steam-to-steam generator. Packaged feed systems are also available from a number of manufacturers. With this arrangement the various system items are mounted on a common base or bedplate. The complete feed system may be packaged or a number of the items.



Related Info:

Closed feed system for an auxiliary boiler - operating principle

Open feed system for an auxiliary boiler - how it works

Boiler turbo feed pump - working procedure


Summarized below more guidance for marine feed system:



More .....



More.....



More .....



More .....



More .....


Extraction pumps should be checked regularly to ensure that the sealing arrangements are preventing air from entering the system. It is usual with most types of glands to permit a slight leakage of water to ensure lubrication of the shaft and the gland.

More .....



More .....











Marine machineries - Useful tags

Marine diesel engines ||Steam generating plant ||Air conditioning system ||Compressed air ||Marine batteries ||Cargo refrigeration ||Centrifugal pump ||Various coolers ||Emergency power supply ||Exhaust gas heat exchangers ||Feed system ||Feed extraction pump || Flow measurement || Four stroke engines || Fuel injector || Fuel oil system || Fuel oil treatment ||Gearboxes || Governor || Marine incinerator || Lub oil filters || MAN B&W engine || Marine condensers || Oily water separator || Overspeed protection devices || Piston & piston rings || Crankshaft deflection || Marine pumps || Various refrigerants || Sewage treatment plant || Propellers || Power Plants || Starting air system || Steam turbines || Steering gear || Sulzer engine || Turbine gearing || Turbochargers || Two stroke engines || UMS operations || Drydocking & major repairs || Critical machinery || Deck machineries & cargo gears || Control and instrumentation ||Fire protection ||Engine room safety ||





Machinery Spaces.com is about working principles, construction and operation of all the machinery items in a ship intended primarily for engineers working on board and those who working ashore . For any remarks please Contact us

Copyright © 2010-2016 Machinery Spaces.com All rights reserved.
Terms and conditions of use
Read our privacy policy|| Home page||