Home || Diesel Engines ||Boilers||Feed Systems ||Steam Turbines ||Fuel Treatment ||Pumps ||Refrigeration ||
Water Level Gauges for Marine Boiler
The water level gauge provides a visible indication of the water level in a boiler in the region of the correct working level. If the water level were too high then water might pass out of the boiler and do serious damage to any equipment designed to accept steam. If the water level were too low then the heat transfer surfaces might become exposed to excessive temperatures and fail. Constant attention to the boiler water level is therefore essential. Due to the motion of the ship it is necessary to have a water level gauge at each end of the boiler to correctly observe the level.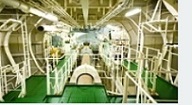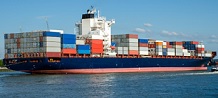 Depending upon the boiler operating pressure, one of two basically different types of water level gauge will be fitted.

For boiler pressures up to a maximum of 17 bar a round glass tube type of water level gauge is used. The glass tube is connected to the boiler shell by cocks and pipes, as shown in Figure . Packing rings are positioned at the tube ends to give a tight seal and prevent leaks. A guard is usually placed around the tube to protect it from accidental damage and to avoid injury to any personnel in the vicinity if the tube shatters. The water level gauge is usually connected directly to the boiler. Isolating cocks are fitted in the steam and water passages, and a drain cock is also present. A ball valve is fitted below the tube to shut off the water should the tube break and water attempt to rush out.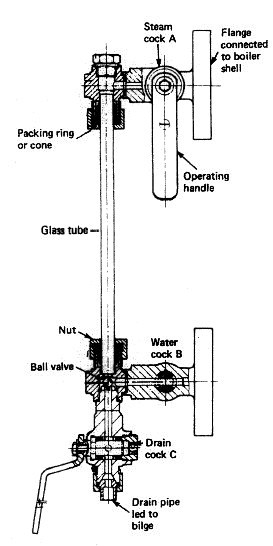 Fig:Boiler Water level gauges

For boiler pressures above 17 bar a plate-glass-type water level gauge is used. The glass tube is replaced by an assembly made up of glass plates within a metal housing, as shown in Figure . The assembly is made up as a 'sandwich' of front and back metal plates with the glass plates and a centre metal plate between. Joints are placed between the glass and the metal plate and a mica sheet placed over the glass surface facing the water and steam. The mica sheet is an effective insulation to prevent the glass breaking at the very high temperature. When bolting up this assembly, care must be taken to ensure even all-round tightening of the bolts. Failure to do this will result in a leaking assembly and possibly shattered glass plates.

In addition to the direct-reading water level gauges, remote-reading level indicators are usually led to machinery control rooms. It is possible for the small water or steam passages to block with scale or dirt and the gauge will give an incorrect reading. To check that passages are dear a 'blowing through' procedure should be followed. close the water cock B and open drain cock C.

The boiler pressure should produce a strong jet of steam from the drain. Cock A is now closed and Cock B opened. A jet of water should now pass through the drain. The absence of a flow through the drain will indicate that the passage to the open cock is blocked.





Summarized below marine boiler detail Info pages:



































Marine machineries - Useful tags

Marine diesel engines ||Steam generating plant ||Air conditioning system ||Compressed air ||Marine batteries ||Cargo refrigeration ||Centrifugal pump ||Various coolers ||Emergency power supply ||Exhaust gas heat exchangers ||Feed system ||Feed extraction pump || Flow measurement || Four stroke engines || Fuel injector || Fuel oil system || Fuel oil treatment ||Gearboxes || Governor || Marine incinerator || Lub oil filters || MAN B&W engine || Marine condensers || Oily water separator || Overspeed protection devices || Piston & piston rings || Crankshaft deflection || Marine pumps || Various refrigerants || Sewage treatment plant || Propellers || Power Plants || Starting air system || Steam turbines || Steering gear || Sulzer engine || Turbine gearing || Turbochargers || Two stroke engines || UMS operations || Drydocking & major repairs || Critical machinery || Deck machineries & cargo gears || Control and instrumentation ||Fire protection ||Engine room safety ||



Machinery Spaces.com is about working principles, construction and operation of all the machinery items in a ship intended primarily for engineers working on board and those who working ashore. For any remarks please Contact us

Copyright © 2010-2016 Machinery Spaces.com All rights reserved.
Terms and conditions of use
Read our privacy policy|| Home page||