Home || Diesel Engines ||Boilers||Feed Systems ||Steam Turbines ||Fuel Treatment ||Pumps ||Refrigeration ||
Oil in Water Monitoring System for Merchant Ships
Current regulations with respect to the discharge of oily water from ships set limits of concentration 15 parts per million. A monitor is required in order to measure these values and provide both continuous records and an alarm where the permitted level is exceeded.

The principle used is that of ultra-violet fluorescence. This is the emission of light by a molecule that has absorbed light. During the short interval between absorption and emission, energy is lost and light of a longer wavelength is emitted. Oil fluoresces more readily than water and this provides the means for its detection.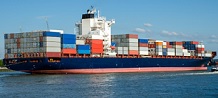 A sample is drawn off from the overboard discharge and passes through a sample cell . An ultra-violet light is directed at the sample and the fluorescence is monitored by a photoelectric cell. The measured value is compared with the maximum desired value in the controller/recorder.

Where an excessive level of contamination is detected an alarm is sounded and diverting valves are operated. The discharging liquid is then passed to a slop tank.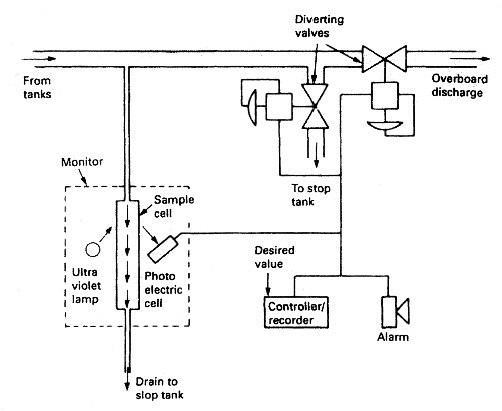 Fig : Oil in water monitoring system

The oil is automatically bled from the evaporator to a heat exchanger in which liquid refrigerant mixed with the oil is vaporized. The heat for vaporizing the refrigerant is obtained by passing warm liquid refrigerant from the condenser, through the heat exchanger. Vapour and oil are passed to the compressor where the oil returns to the sump while the freon passes to the compressor suction. The regulator is a thermostatically controlled valve which operates in the



Ships instruments:




Related Info:
















Marine machineries - Useful tags

Marine diesel engines ||Steam generating plant ||Air conditioning system ||Compressed air ||Marine batteries ||Cargo refrigeration ||Centrifugal pump ||Various coolers ||Emergency power supply ||Exhaust gas heat exchangers ||Feed system ||Feed extraction pump || Flow measurement || Four stroke engines || Fuel injector || Fuel oil system || Fuel oil treatment ||Gearboxes || Governor || Marine incinerator || Lub oil filters || MAN B&W engine || Marine condensers || Oily water separator || Overspeed protection devices || Piston & piston rings || Crankshaft deflection || Marine pumps || Various refrigerants || Sewage treatment plant || Propellers || Power Plants || Starting air system || Steam turbines || Steering gear || Sulzer engine || Turbine gearing || Turbochargers || Two stroke engines || UMS operations || Drydocking & major repairs || Critical machinery || Deck machineries & cargo gears || Control and instrumentation ||Fire protection ||Engine room safety ||





Machinery Spaces.com is about working principles, construction and operation of all the machinery items in a ship intended primarily for engineers working on board and those who working ashore . For any remarks please Contact us

Copyright © 2010-2016 Machinery Spaces.com All rights reserved.
Terms and conditions of use
Read our privacy policy|| Home page||