Home || Diesel Engines ||Boilers||Feed Systems ||Steam Turbines ||Fuel Treatment ||Pumps ||Refrigeration ||
Oxygen Analyser for Measuring Oxygen Levels in Enclosed Spaces
The measuring of oxygen content in an atmosphere is important, particularly when entering enclosed spaces. Also inert gas systems use exhaust gases which must be monitored to ensure that their oxygen content is below 5%. One type of instrument used to measure oxygen content utilises the fact that oxygen is attracted by a magnetic field, that is, it is paramagnetic.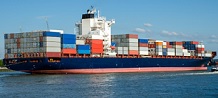 A measuring cell uses a dumb-bell shaped wire which rotates in a magnetic field. The presence of oxygen will affect the magnetic field and cause rotation of the dumb-bell. The current required to align the dumb-bell is a measure of the oxygen concentration in the cell. The sampling system for an inert gas main is shown in Figure .

The probe at the tap-off point has an integral filter to remove dust. The gas then passes through a separator, a three-way valve and a flow valve. The gas sample, after further separation and filtering, passes to the measuring cell and part of it is bypassed.

The flow valve is used to obtain the correct flow through the measuring cell and a meter provides the reading of oxygen content. The three-way valve permits the introduction of a zeroing gas (nitrogen) and a span gas (air). The span gas gives a 21% reading as a calibration check.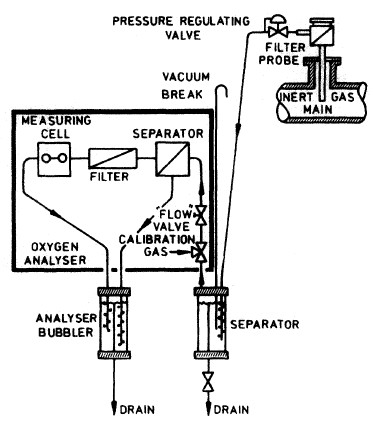 Fig: Oxygen analyser



Ships instruments:





Marine machineries - Useful tags

Marine diesel engines ||Steam generating plant ||Air conditioning system ||Compressed air ||Marine batteries ||Cargo refrigeration ||Centrifugal pump ||Various coolers ||Emergency power supply ||Exhaust gas heat exchangers ||Feed system ||Feed extraction pump || Flow measurement || Four stroke engines || Fuel injector || Fuel oil system || Fuel oil treatment ||Gearboxes || Governor || Marine incinerator || Lub oil filters || MAN B&W engine || Marine condensers || Oily water separator || Overspeed protection devices || Piston & piston rings || Crankshaft deflection || Marine pumps || Various refrigerants || Sewage treatment plant || Propellers || Power Plants || Starting air system || Steam turbines || Steering gear || Sulzer engine || Turbine gearing || Turbochargers || Two stroke engines || UMS operations || Drydocking & major repairs || Critical machinery || Deck machineries & cargo gears || Control and instrumentation ||Fire protection ||Engine room safety ||





Machinery Spaces.com is about working principles, construction and operation of all the machinery items in a ship intended primarily for engineers working on board and those who working ashore . For any remarks please Contact us

Copyright © 2010-2016 Machinery Spaces.com All rights reserved.
Terms and conditions of use
Read our privacy policy|| Home page||