Home || Diesel Engines ||Boilers||Feed Systems ||Steam Turbines ||Fuel Treatment ||Pumps ||Refrigeration ||
Ships machinery- Torsionmeters & measurement of torsion
The measurement of torsion is usually made by electrical means. The twisting or torsion of a rotating shaft can be measured in a number of different ways to give a value of applied torque. Shaft power can then be calculated by multiplying the torque by the rotational speed of the shaft.

Strain gauge torsionmeter: With this device four strain gauges are mounted onto the shaft, as shown in Figure below. The twisting of the shaft as a result of an applied torque results in a change in resistance of the strain gauge system or bridge. Brushes and sliprings are used to take off the electrical connections and complete the circuit, as shown. More recently use has been made of the resistance change converted to a frequency change.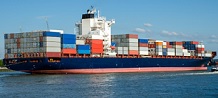 A frequency converter attached to the shaft is used for this purpose: this frequency signal is then transmitted without contact to a digital frequency receiver. When a torque is applied to the shaft, readings of strain and hence torque can be made.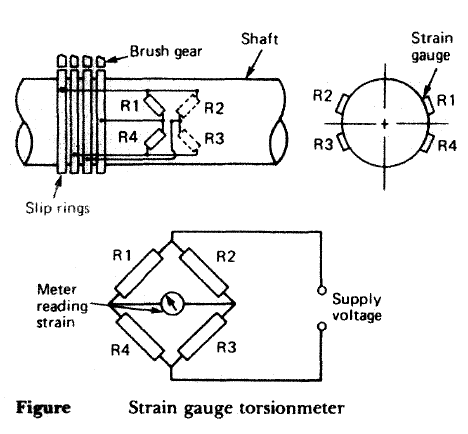 Fig: Strain gauge torsionmeter

Differential transformer torsionmeter

Two castings are used to provide a magnetic circuit with a variable air gap. The two are clamped to the shaft, as shown in Figure below, and joined to each other by thin steel strips.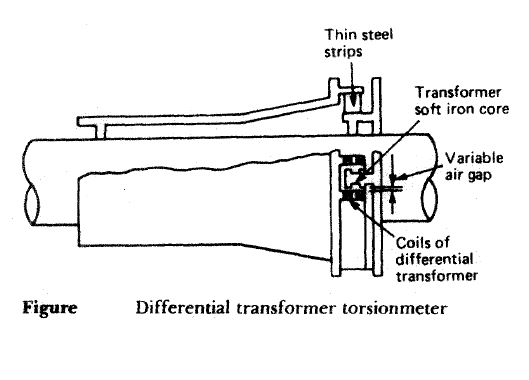 Fig: Differential transformer torsionmeter

The joining strips will transmit tension but offer no resistance to rotational movement of the two castings with respect to each other, A differential transformer is fitted between the two castings, the two coils being wound on one casting and the iron core being part of the other. Another differential transformer is fitted in the indicating circuit, its air gap being adjusted by a micrometer screw. The primary coils of the two transformers are joined in series and energised by an a.c. supply. The secondary coils are connected so that the induced e.m.f.s are opposed and when one transformer has an air gap different to the other a current will flow.

When a torque is applied to the shaft the air gap of the shaft transformer will change, resulting in a current flow. The indicator unit transformer air gap is then adjusted until no current flows. The air gaps in both transformers must now be exactly equal. The applied torque is directly proportional to the width of the air gap or the micrometer screw movement. Shaft power is found by multiplying the micrometer screw reading by the shaft speed and a constant for the meter.



Ships instruments:





Marine machineries - Useful tags

Marine diesel engines ||Steam generating plant ||Air conditioning system ||Compressed air ||Marine batteries ||Cargo refrigeration ||Centrifugal pump ||Various coolers ||Emergency power supply ||Exhaust gas heat exchangers ||Feed system ||Feed extraction pump || Flow measurement || Four stroke engines || Fuel injector || Fuel oil system || Fuel oil treatment ||Gearboxes || Governor || Marine incinerator || Lub oil filters || MAN B&W engine || Marine condensers || Oily water separator || Overspeed protection devices || Piston & piston rings || Crankshaft deflection || Marine pumps || Various refrigerants || Sewage treatment plant || Propellers || Power Plants || Starting air system || Steam turbines || Steering gear || Sulzer engine || Turbine gearing || Turbochargers || Two stroke engines || UMS operations || Drydocking & major repairs || Critical machinery || Deck machineries & cargo gears || Control and instrumentation ||Fire protection ||Engine room safety ||





Machinery Spaces.com is about working principles, construction and operation of all the machinery items in a ship intended primarily for engineers working on board and those who working ashore . For any remarks please Contact us

Copyright © 2010-2016 Machinery Spaces.com All rights reserved.
Terms and conditions of use
Read our privacy policy|| Home page||