Home || Diesel Engines ||Boilers||Feed Systems ||Steam Turbines ||Fuel Treatment ||Pumps ||Refrigeration ||
Viscosity Control for Marine Fuel Oil
Viscosity control of fuels is essential if correct atomisation and combustion is to take place. Increasing the temperature of a fuel will reduce its viscosity, and vice-versa. As a result of the varying properties of marine fuels, often within one tank, actual viscosity must be continuously measured and then corrected by temperature adjustment. The sensing device is shown in Figure below.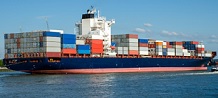 A small constant speed gear pump forces a fixed quantity of oil through a capillary (narrow bore) tube. The liquid flow in the capillary is such that the difference in pressure readings taken before the capillary and after it is related to the oil viscosity. A differential pressure gauge is calibrated to read viscosity and the pressure values are used to operate the heater control to maintain some set viscosity value.

Shipboard machinery must operate within certain desired parameters. Instrumentation enables the parameters—liquid flow level,quantity,velocity and so on—to be measured or displayed against a scale.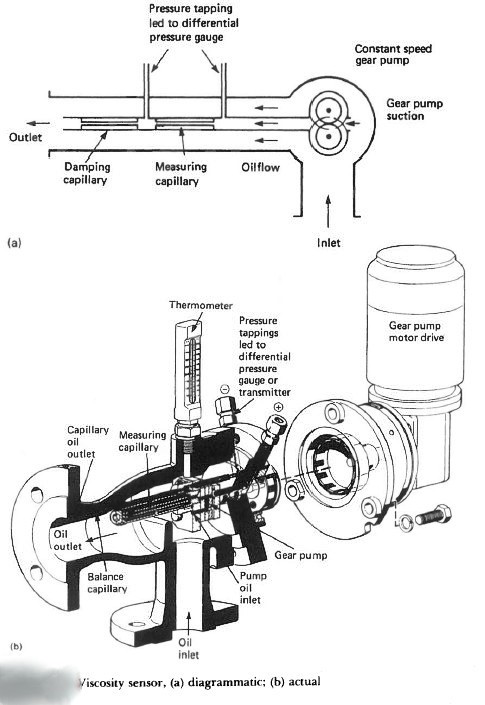 Fig: Viscosity sensor diagrammatic and actual
Ships instruments:



Marine machineries - Useful tags

Marine diesel engines ||Steam generating plant ||Air conditioning system ||Compressed air ||Marine batteries ||Cargo refrigeration ||Centrifugal pump ||Various coolers ||Emergency power supply ||Exhaust gas heat exchangers ||Feed system ||Feed extraction pump || Flow measurement || Four stroke engines || Fuel injector || Fuel oil system || Fuel oil treatment ||Gearboxes || Governor || Marine incinerator || Lub oil filters || MAN B&W engine || Marine condensers || Oily water separator || Overspeed protection devices || Piston & piston rings || Crankshaft deflection || Marine pumps || Various refrigerants || Sewage treatment plant || Propellers || Power Plants || Starting air system || Steam turbines || Steering gear || Sulzer engine || Turbine gearing || Turbochargers || Two stroke engines || UMS operations || Drydocking & major repairs || Critical machinery || Deck machineries & cargo gears || Control and instrumentation ||Fire protection ||Engine room safety ||





Machinery Spaces.com is about working principles, construction and operation of all the machinery items in a ship intended primarily for engineers working on board and those who working ashore . For any remarks please Contact us

Copyright © 2010-2016 Machinery Spaces.com All rights reserved.
Terms and conditions of use
Read our privacy policy|| Home page||