Home || Diesel Engines ||Boilers||Feed Systems ||Steam Turbines ||Fuel Treatment ||Pumps ||Refrigeration ||
Float Operated, Sight or Gauge Glasses & Pneumatic Gauges for Liquid Level Measurement
Shipboard machinery must operate within certain desired parameters. Instrumentation enables the parameters—liquid flow level,quantity,velocity and so on—to be measured or displayed against a scale.

Float operated: A float is usually a hollow ball or cylinder whose movement as the liquid surface rises or falls is transmitted to an indicator. A chain or wire usually provides the linkage to the indicator. Float switches may be used for high or low indication, pump starting, etc., where electrical contacts are made or broken, depending upon the liquid level.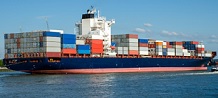 Sight or gauge glasses

Various types of sightglass are used to display liquid level in storage tanks. The simple boiler gauge glass referred to in Chapter 4 is typical of such devices.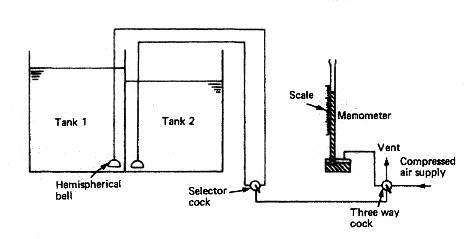 Fig: Pneumatic Gauge

Pneumatic gauge

This is a device which uses a mercury manometer in conjunction with a hemispherical bell and piping to measure tank level. The arrangement is shown in Figure. A hemispherical bell is fitted near the bottom of the tank and connected by small bore piping to the mercury manometer. A selector cock enables one manometer to be connected to a number of tanks, usually a pair.

A three-way cock is fitted to air, gauge and vent positions. With the cock at the 'air' position the system is filled with compressed air. The cock is then turned to 'gauge' when the tank contents will further pressurise the air in the system and a reading will be given on the manometer which corresponds to the liquid level. The cock is turned to Vent' after the reading has been taken.



Ships instruments:





Marine machineries - Useful tags

Marine diesel engines ||Steam generating plant ||Air conditioning system ||Compressed air ||Marine batteries ||Cargo refrigeration ||Centrifugal pump ||Various coolers ||Emergency power supply ||Exhaust gas heat exchangers ||Feed system ||Feed extraction pump || Flow measurement || Four stroke engines || Fuel injector || Fuel oil system || Fuel oil treatment ||Gearboxes || Governor || Marine incinerator || Lub oil filters || MAN B&W engine || Marine condensers || Oily water separator || Overspeed protection devices || Piston & piston rings || Crankshaft deflection || Marine pumps || Various refrigerants || Sewage treatment plant || Propellers || Power Plants || Starting air system || Steam turbines || Steering gear || Sulzer engine || Turbine gearing || Turbochargers || Two stroke engines || UMS operations || Drydocking & major repairs || Critical machinery || Deck machineries & cargo gears || Control and instrumentation ||Fire protection ||Engine room safety ||




Machinery Spaces.com is about working principles, construction and operation of all the machinery items in a ship intended primarily for engineers working on board and those who working ashore . For any remarks please Contact us

Copyright © 2010-2016 Machinery Spaces.com All rights reserved.
Terms and conditions of use
Read our privacy policy|| Home page||