Machinery Spaces.com Home || Diesel engines ||Boilers||Feed systems ||Steam turbines ||Fuel treatment ||Pumps ||Valves ||Refrigeration ||



Salinometer working principle



How to determine water purity ? : Water purity, in terms of the absence of salts, is essential where it is to be used as boiler feed. Pure water has a high resistance to the flow of electricity whereas salt water has a high electrical conductivity. A measure of conductivity, in Siemens, is a measure of purity.



The salinity measuring unit ( shown in Figure ) uses two small cells each containing a platinum and a gunmetal electrode. The liquid sample passes through the two cells and any current flow as a result of conductance is measured. Since conductivity rises with temperature a compensating resistor is incorporated in the measuring circuit.

The insulating plunger varies the water flow in order to correct values to 20 degree C for a convenient measuring unit, the microsiemens/cm3 or dionic unit. A de-gassifier should be fitted upstream of this unit to remove dissolved carbon dioxide which will cause errors in measurement.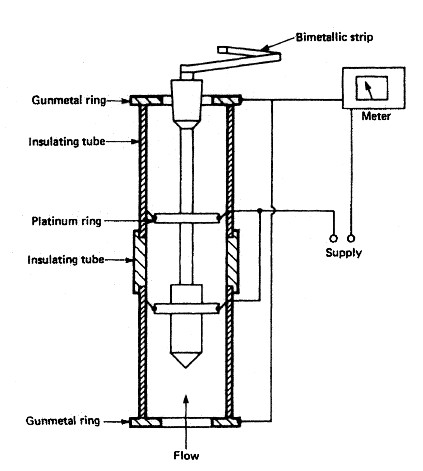 Fig: Salinometer



Ships instruments:





Marine machineries - Useful tags

Marine diesel engines ||Steam generating plant ||Air conditioning system ||Compressed air ||Marine batteries ||Cargo refrigeration ||Centrifugal pump ||Various coolers ||Emergency power supply ||Exhaust gas heat exchangers ||Feed system ||Feed extraction pump || Flow measurement || Four stroke engines || Fuel injector || Fuel oil system || Fuel oil treatment ||Gearboxes || Governor || Marine incinerator || Lub oil filters || MAN B&W engine || Marine condensers || Oily water separator || Overspeed protection devices || Piston & piston rings || Crankshaft deflection || Marine pumps || Various refrigerants || Sewage treatment plant || Propellers || Power Plants || Starting air system || Steam turbines || Steering gear || Sulzer engine || Turbine gearing || Turbochargers || Two stroke engines || UMS operations || Drydocking & major repairs || Critical machinery || Deck machineries & cargo gears || Control and instrumentation ||Fire protection ||Engine room safety ||






Machinery Spaces.com is about working principles, construction and operation of all the machinery items in a ship intended primarily for engineers working on board and those who working ashore . For any remarks please Contact us

Copyright © 2010-2016 Machinery Spaces.com All rights reserved.
Terms and conditions of use
Read our privacy policy|| Home page||