Machinery Spaces.com Home || Diesel engines ||Boilers||Feed systems ||Steam turbines ||Fuel treatment ||Pumps ||Valves ||Refrigeration ||



Auto-klean filters, Coalescing action filters & Streamline lubricating oil filters for marine use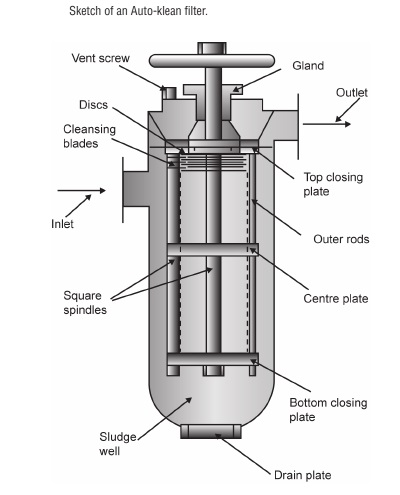 Sketch of an auto klean filter
Auto-klean filter
: This filter can be cleaned while in operation. The filter is cleaned by rotating the centre square spindle which rotates the disc stack and the stationary cleaning blades scrape off filtered solids which settle to the bottom of the sludge well of the filter.

Periodically, the flow of oil is disrupted and the sludge well is cleaned out. To facilitate this, the filters are generally fitted in pairs. The size of particle an auto-klean filter can filter out is in order of 75 microns, but a more recent type can filter out down to 25 microns. Pressure gauges are fitted to auto-klean filters before and after the filter to determine the state of the filter, ie dirty or not.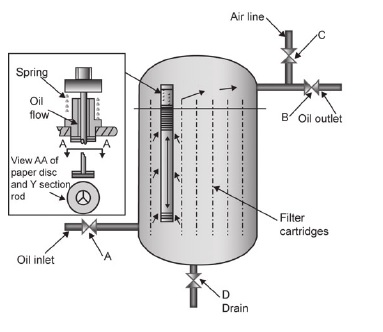 Fig: Streamline lubricating oil filter
Streamline lubricating oil filter
The streamline lubricating oil filter consists of two compartment pressure vessels containing filter cartridges. Each cartridge is made up of thin discs threaded on to a `Y' or `X' shaped section rod and held in compression. The oil flows from the dirty to the clean side of the filter via small spaces between the compressed discs, then up the spaces formed by the poles in the centre. In this way, dirt is left at the edge of the disc stack. It is claimed particles of 1 micron can be filtered out. For cleaning, generally compressed air is used, valves A and B are closed and D and C are opened and reversal of flow results.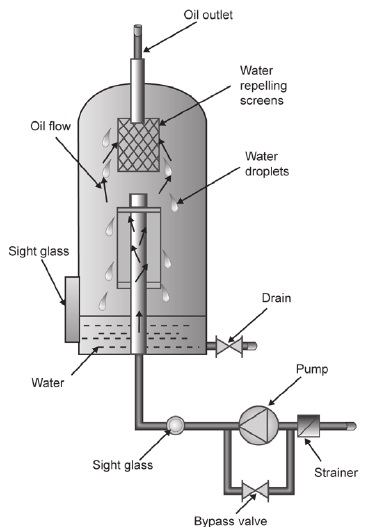 Lubricating oil coalescer filter
Coalescing action filters
Coalescing action filters, normally consist of some form of prefilter to remove particles, then followed by a compressed inorganic fibre coalescing unit in which water is collected into larger globules.

Coalescing action is the molecular attraction between the water droplets and the inorganic fibres is greater that that between the oil and the fibres, when the water globules are large enough they will move with a stream out of the coalesing unit. Downstream of the coalescing cartridges are PTFE covered stainless steel water repelling screens which act as a final barrier for the water. Water gravitates from them and from the outlet of the coalescer cartridges into the well of the filter body from where they are periodically removed.

The coalescer filter may be cleaned by draining the water off manually every so often or it may have its own back flush system.






Related Information: