Machinery Spaces.com Home || Diesel engines ||Boilers||Feed systems ||Steam turbines ||Fuel treatment ||Pumps ||Valves ||Refrigeration ||



Operational guidance for ships navigational light circuit



The supply to the navigation lights circuit must be maintained under all circumstances and special provisions are therefore made. To avoid any possibility of accidental open circuits the distribution board for the navigation lights supplies no other circuit. A changeover switch provides an alternative source of supply should the main supply fail. If the navigation lights fail, a visual or audible indication must be given.



A navigation lights circuit is shown in Figure. Two sources of supply are available from the changeover switch. A double pole switch connects the supply to each light circuit, with a fuse in each line, A relay in the circuit will operate the buzzer if an open circuit occurs, since the relay will de-energise and the trip bar will complete the buzzer circuit. A resistance in series with the indicating lamp will ensure the navigation lights operate even if the indicating lamp fails.

A main supply failure will result in all the indicating lamps extinguishing but the buzzer will not sound. The changeover switch will then have to be moved to the alternative supply.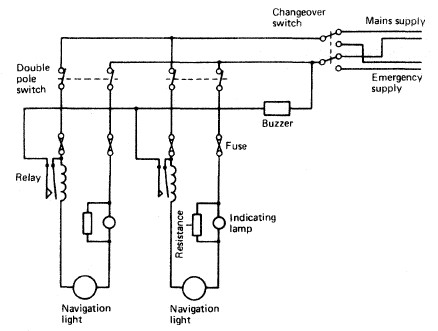 Fig: Navigational light circuit




Related Info:
































Marine machineries - Useful tags

Marine diesel engines ||Steam generating plant ||Air conditioning system ||Compressed air ||Marine batteries ||Cargo refrigeration ||Centrifugal pump ||Various coolers ||Emergency power supply ||Exhaust gas heat exchangers ||Feed system ||Feed extraction pump || Flow measurement || Four stroke engines || Fuel injector || Fuel oil system || Fuel oil treatment ||Gearboxes || Governor || Marine incinerator || Lub oil filters || MAN B&W engine || Marine condensers || Oily water separator || Overspeed protection devices || Piston & piston rings || Crankshaft deflection || Marine pumps || Various refrigerants || Sewage treatment plant || Propellers || Power Plants || Starting air system || Steam turbines || Steering gear || Sulzer engine || Turbine gearing || Turbochargers || Two stroke engines || UMS operations || Drydocking & major repairs || Critical machinery || Deck machineries & cargo gears || Control and instrumentation ||Fire protection ||Engine room safety ||






Machinery Spaces.com is about working principles, construction and operation of all the machinery items in a ship intended primarily for engineers working on board and those who working ashore . For any remarks please Contact us

Copyright © 2010-2016 Machinery Spaces.com All rights reserved.
Terms and conditions of use
Read our privacy policy|| Home page||