Home || Diesel Engines ||Boilers||Feed Systems ||Steam Turbines ||Fuel Treatment ||Pumps ||Refrigeration ||
Pneumatic Control Valves for Marine Pneumatic Devices
Many pneumatic devices use a nozzle and flapper system to give a variation in the compressed air signal. A typical pneumatic control valve is shown in Figure . It can be considered as made up of two parts—the actuator and the valve. In the arrangement shown a flexible diaphragm forms a pressure tight chamber in the upper half of the actuator and the controller signal is fed in.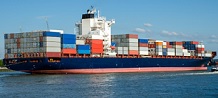 Movement of the diaphragm results in a movement of the valve spindle and the valve. The diaphragm movement is opposed by a spring and is usually arranged so that the variation of controller output corresponds to full travel of the valve.

The valve body is arranged to fit into the particular pipeline and houses the valve and seat assembly. Valve operation may be direct acting where increasing pressure on the diaphragm closes the valve.

A reverse acting valve opens as pressure on the diaphragm increases. The diaphragm movement is opposed by a spring which will close or open the valve in the event of air supply failure depending upon the action of the valve.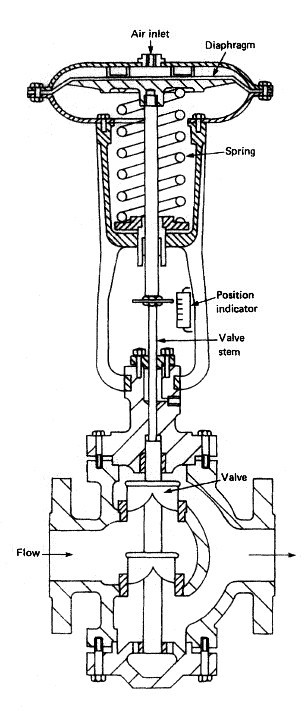 Fig: A pneumatically controlled valve

The valve disc or plug may be single or double seated and have any of a variety of shapes. The various shapes and types are chosen according to the type of control required and the relationship between valve lift and liquid flow.

A non-adjustable gland arrangement is usual. Inverted V-ring packing is used to minimise the friction against the moving spindle. In order to achieve accurate valve disc positioning and overcome the effects of friction and unbalanced forces a valve positioner may be used. The operating principle is shown in Figure .

The controller signal acts on a bellows which will move the flapper in relation to the nozzle. This movement will alter the air pressure on the diaphragm which is supplied via an orifice from a constant pressure supply. The diaphragm movement will move the valve spindle and also the flapper. An equilibrium position will be set up when the valve disc is correctly positioned. This arrangement enables the use of a separate power source to actuate the valve.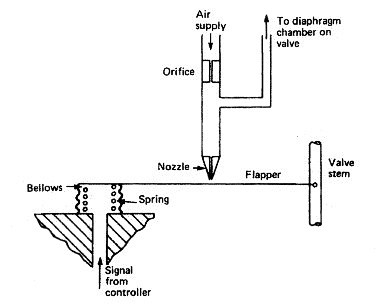 Fig: Valve positioner

Actuator operation

The control signal to a correcting unit may be pneumatic, electric or hydraulic. The actuating power may also be any one of these three and not necessarily the same as the control medium. Electrical control signals are usually of small voltage or current values which are unable to effect actuator movement. Pneumatic or hydraulic power would then be used for actuator operation.

A separate pneumatic power supply may be used even when the control signal is pneumatic, as described in the previous section. Hydraulic actuator power is used where large or out of balance forces occur or when the correcting unit is of large dimensions itself. Hydraulic control with separate hydraulic actuation is a feature of some types of steering gear.






Related Info:





















Marine machineries - Useful tags

Marine diesel engines ||Steam generating plant ||Air conditioning system ||Compressed air ||Marine batteries ||Cargo refrigeration ||Centrifugal pump ||Various coolers ||Emergency power supply ||Exhaust gas heat exchangers ||Feed system ||Feed extraction pump || Flow measurement || Four stroke engines || Fuel injector || Fuel oil system || Fuel oil treatment ||Gearboxes || Governor || Marine incinerator || Lub oil filters || MAN B&W engine || Marine condensers || Oily water separator || Overspeed protection devices || Piston & piston rings || Crankshaft deflection || Marine pumps || Various refrigerants || Sewage treatment plant || Propellers || Power Plants || Starting air system || Steam turbines || Steering gear || Sulzer engine || Turbine gearing || Turbochargers || Two stroke engines || UMS operations || Drydocking & major repairs || Critical machinery || Deck machineries & cargo gears || Control and instrumentation ||Fire protection ||Engine room safety ||





Machinery Spaces.com is about working principles, construction and operation of all the machinery items in a ship intended primarily for engineers working on board and those who working ashore . For any remarks please Contact us

Copyright © 2010-2016 Machinery Spaces.com All rights reserved.
Terms and conditions of use
Read our privacy policy|| Home page||