Machinery Spaces.com Home || Diesel engines ||Boilers||Feed systems ||Steam turbines ||Fuel treatment ||Pumps ||Valves ||Refrigeration ||



Composition of domestic water system for a general cargo ship



Use of compressed air in domestic water systems
: Domestic water systems usually comprise a fresh water system for washing and drinking and a salt water system for sanitary purposes . Both use a basically similar arrangement of an automatic pump supplying the liquid to a tank which is pressurised by compressed air.



The compressed air provides the head or pressure to supply the water when required. The pump is started automatically by a pressure switch which operates as the water level falls to a predetermined level. The fresh water system has, in addition, a calorifier or heater which is heated, usually with steam.

Fresh water supplied for drinking and culinary purposes must meet purity stndards specified by the Department of Transport. Water produced from most evaporator/distillers will not meet these standards and must be treated to ensure it is biologically pure and neutral or slightly alkaline.




Fig: Domestic water systems on board

. The water is sterilised by an excess dose of chlorine provided as hypochlorite tablets. It is then dechlorinated in a bed of activated carbon to remove the excess chlorine. Any colour, taste and odour which was present in the water will also be removed by the carbon. Excess chlorine is originally applied to ensure that complete sterilisation occurs,



A treatment plant suitable for a general cargo ship is shown in Figure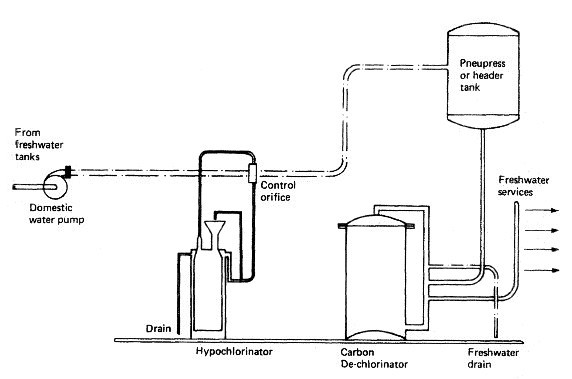 Fig: Domestic water treatment on board


Fresh water supply

Domestic water supply either produced on board or bunkered must be sampled frequently and treated in accordance with statutory regulations. Records are to be maintained of chemical treatment dosage. In case of any doubt on the quality of drinking and cooking water, the office must be consulted. Equipment for the sterilisation and or demineralisation of drinking water is to be maintained as specified by the Manufacturers.

Every vessel shall carry designated hoses for taking on potable water. They are to be carefully stowed and labelled "Potable Water Use Only." Care must be taken to ensure that these hoses are kept clean and are kept free from any contamination.

Potable water tanks are to be emptied for inspection and maintenance as specified in the vessel's planned maintenance system. They are to be thoroughly scrubbed, flushed out and the entire system disinfected with chlorine as described in the International Medical Guide for Ships or the UK Ship Captain's Medical Guide. Any personnel entering a potable water tank must wear absolutely clean clothing and footwear. No person suffering from skin infections or communicable diseases are to be allowed to enter the tank.



Related Info:




















Marine machineries - Useful tags

Marine diesel engines ||Steam generating plant ||Air conditioning system ||Compressed air ||Marine batteries ||Cargo refrigeration ||Centrifugal pump ||Various coolers ||Emergency power supply ||Exhaust gas heat exchangers ||Feed system ||Feed extraction pump || Flow measurement || Four stroke engines || Fuel injector || Fuel oil system || Fuel oil treatment ||Gearboxes || Governor || Marine incinerator || Lub oil filters || MAN B&W engine || Marine condensers || Oily water separator || Overspeed protection devices || Piston & piston rings || Crankshaft deflection || Marine pumps || Various refrigerants || Sewage treatment plant || Propellers || Power Plants || Starting air system || Steam turbines || Steering gear || Sulzer engine || Turbine gearing || Turbochargers || Two stroke engines || UMS operations || Drydocking & major repairs || Critical machinery || Deck machineries & cargo gears || Control and instrumentation ||Fire protection ||Engine room safety ||






Machinery Spaces.com is about working principles, construction and operation of all the machinery items in a ship intended primarily for engineers working on board and those who working ashore . For any remarks please Contact us

Copyright © 2010-2016 Machinery Spaces.com All rights reserved.
Terms and conditions of use
Read our privacy policy|| Home page||