Machinery Spaces.com Home || Diesel engines ||Boilers||Feed systems ||Steam turbines ||Fuel treatment ||Pumps ||Valves ||Refrigeration ||



Fresh water & sea water cooling system maintenance guide



The heat produced by running machinery, must be removed to ensure the satisfactory functioning of the equipment. Cooling is achieved primarily through circulation of water, oil and air but the abundant supply of sea water is normally reserved for use as an indirect coolant because the dissolved salts have a great potential for depositing scale and assisting in the setting up of galvanic corrosion cells. Pollution of coastal areas by industrial and other wastes has added to the problems of using sea water as a coolant.



Cooling Water Systems (Salt & Fresh)- Diesel Engine Cooling Water Quality:

An alkaline condition must always be maintained in the fresh water cooling system. Where a proprietary brand of water treatment is used, the recommendations of the suppliers regarding dosage and test procedures must be followed and routinely reported on to the appropriate Management office and the suppliers using the log sheets that are provided.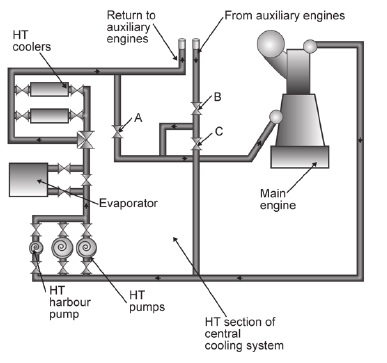 Sketch of a system that makes
use of auxiliary engines to heat
main engines while shut down.
The advantages of the above
system is that a heater is not required
for keeping the main engines warm,
the engines are always ready for use.


During Diesel engine overhauls internal cooling surfaces are to be examined and any build up of material, which would adversely affect proper heat transfer, or flow of cooling water, recorded. In vessels fitted with Cooling Water drain tanks for use during engine overhauls, these tanks are to be kept clean and ready for use.


Topping-Up Diesel Engine Systems:

Distilled water must be used in Diesel Engine cooling systems if on board production is possible. If this is not possible or, in cases of extreme emergency, shore or potable water may be used, samples are to be taken, and analysed for chlorides, alkalinity etc and the relevant management office informed immediately. It is at all times imperative that an accurate record is maintained in the Engine Room Log Book and Water Condition Logs. Excessive use of topping up water must be investigated, and the defect rectified as soon as possible.


Chemical Cleaning of Sea & Fresh Water Systems:

Under certain circumstances chemical cleaning of a system or component of the system will be required. Details of the system, component materials and capacity are to be advised and, following discussion with the Fleet Superintendent, a procedure plan prepared. It is important not to proceed with such an exercise, without being fully prepared with adequate cleaning and neutralising chemicals, water reserves, protective clothing, safety information and all the necessary hardware.


Salt Water Pipework Repairs:

It is essential to avoid the use of unspecified materials in the repair of salt water system pipework. As a basic guideline dissimilar metals are to be avoided, however, if there is any doubt regarding the correct materials to be used and as general rule, salt water pipework repairs should be discussed with the relevant Fleet Superintendent.

Four checking and treatment procedures used to reduce the possibility of damage to freshwater systems are:
Cleaning of cooling water chambers and tanks
analysing the applied untreated freshwater
treating the applied water
checking the water in the cooling system.
Corrosion may occur in freshwater systems as a result of makeup water from the evaporators, as this water is very soft and can absorb large quantities of CO2 which reduces the PH value of the water. The water may also contain small amounts of chlorides.


Flooding of Engine Room During Maintenance:

Incidents have occurred whereby main SW systems undergoing maintenance have been inadvertently operated, resulting in the flooding of the engine room, and seriously jeopardising the safety of the vessel. It is the responsibility of the Chief Engineer to issue standing instructions to all engine room staff regarding the impending maintenance of any system or machinery, and also, that the said systems or machinery must not be operated until confirmation is received from the Chief Engineer that the maintenance is satisfactorily completed, and it is safe to operate.

The isolation of any sea water pipework system for the purpose of maintenance to machinery or repair to the pipeline must be supervised by the Chief Engineer or Second Engineer Officer before the commencement of repairs/maintenance.



Related Information: