Home || Diesel Engines ||Boilers||Feed Systems ||Steam Turbines ||Fuel Treatment ||Pumps ||Refrigeration ||
Suitability of Refrigerants for Cargo Ships
In all refrigeration, heat is collected in a suitable fluid and this fluid is removed from the space substance being cooled carrying the heat with it. Such fluid known as refrigerant. Mechanical refrigeration makes possible the control of the pressure and therefore, the temperature at which a refrigerant boils (within the limits of critical pressure and temperature). The closed circuit ensures repeated use of the same refrigerant with little or no loss to atmosphere.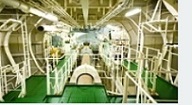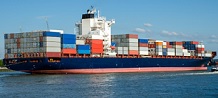 Theoretically, almost any liquid can be used as a refrigerant if its pressure/temperature relationship is suitable for the conditions. Although no perfect refrigerant is known, there are certain factors which determine a refrigerant's desirability for a particular duty and the one selected should possess as many as possible of the following characteristics:

1. Moderate condensing pressure, obviating the need for heavily constructed compressors, condensers and high pressure piping.

2. High critical temperature, as it is impossible to condense at a temperature above the critical, no matter how much the pressure is increased.

3. Low specific heat of the liquid. This is desirable as throttling at the expansion valve causes liquid refrigerant to be cooled at the expense of partial evaporation.

4. High latent heat of vapourization, so that less refrigerant may be circulated to perform a given duty.

5. The refrigerant should be non-corrosive to all materials used in the construction of the refrigerating machinery and systems.

6. It should be stable chemically.

7. It should be non-flammable and non-explosive.

8. World wide availability, low cost and ease of handling are desirable.

9. The problem of oil return to the compressor crankcase is simplified when an oil-miscible refrigerant is used, by the admixture of the oil and the refrigerant in the system. With non-miscible refrigerants, once oil has passed to the system, its return to the crankcase can only be effected with difficulty.

10. The current concern with depletion of the ozone layer has resulted in a new requirement that refrigerants should be environmentally friendly. Strong pressure exerted to phase out CFCs and in particular R12, resulted in the Montreal Protocol adopted in 1987 after ratification by 70 countries and additional conventions seeking to phase out these gases.


Finally the refrigerant should preferably be non-toxic, have satisfactory heat transfer characteristics, and leakages should be easy to detect either by odour or by the use of suitable indicators. It is not proposed to list or deal with all known refrigerants, only those likely to be encountered on board. These refrigerants are referred to by their trade names , chemecal names or their internationally recognized numbers.


Use of ammonia
The ammonia used for refrigeration systems based on the use of a compressor, condenser, expansion valve and an evaporator is dry (anhydrous) in that there is no water in solution with it. It has the chemical formula NH3 but as a refrigerant, it is coded with the number R717.

The good qualities of ammonia as a refrigerant have been offset by its toxicity, flammability and pungent odour, so that carbon dioxide and then CFCs (which replaced CO2) were used at sea in preference. Now that R12 is to be phased out in the short term and R22 at a later date, ammonia is being considered as a replacement, because despite its local harmful effects and disadvantages, it is ozone friendly.

The upper and lower explosive limits for pure ammonia in air, are 27% and 16% by volume, respectively. With oil contamination, the latter may reduce to 4%. Long-term exposure to ammonia should be restricted to the current threshold limit value (TLV).

Exposure to higher concentrations of 1500 ppm will result in damage to body tissue and death may result at 2500 ppm. However, ammonia leaks are instantly detected at less than 10 ppm concentration by the pungent odour and this is a safety feature. Very few people can endure ammonia when its concentration exceeds the TLV. In the liquid form, ammonia causes chemical and frost burns. Corrosion of brass, bronze and similar alloys , occurs in ammonia systems if there is any water present. These materials are being avoided with steels being used instead.

Ammonia is highly soluble in water with which it forms ammonium hydroxide, a weak base. About 1300 volumes of ammonia can be dissolved in I volume of water at low temperature. However it is easily expelled by boiling. This action makes the vapour absorption refrigerator possible. Refrigerators, of this type do not require a compressor for operation, only a heat source.
Use of R744 CO2 as a refrigerant
When carbon dioxide (CO2) is used as a refrigerant the working pressures are high, being about 70 bar at the compressor discharge and 20 bar at the compressor suction. The machinery and system must therefore be of substantial construction. The critical temperature is low (31°C) and this causes problems in areas with high sea-water temperature. It also has a low coefficient of performance. Poor miscibility with oil required that a drain system be provided to remove oil continuously from the evaporator.

The gas is not explosive or flammable but a leak is potentially dangerous because it can displace air and asphyxiate. It is also toxic. The liquid is stored in steel bottles at high pressure, ideally in a cool space. A temperature rise will cause a pressure rise in the bottles which is relieved by the rupturing of a safety disc and release of gas.



Related info



















Marine machineries - Useful tags

Marine diesel engines ||Steam generating plant ||Air conditioning system ||Compressed air ||Marine batteries ||Cargo refrigeration ||Centrifugal pump ||Various coolers ||Emergency power supply ||Exhaust gas heat exchangers ||Feed system ||Feed extraction pump || Flow measurement || Four stroke engines || Fuel injector || Fuel oil system || Fuel oil treatment ||Gearboxes || Governor || Marine incinerator || Lub oil filters || MAN B&W engine || Marine condensers || Oily water separator || Overspeed protection devices || Piston & piston rings || Crankshaft deflection || Marine pumps || Various refrigerants || Sewage treatment plant || Propellers || Power Plants || Starting air system || Steam turbines || Steering gear || Sulzer engine || Turbine gearing || Turbochargers || Two stroke engines || UMS operations || Drydocking & major repairs || Critical machinery || Deck machineries & cargo gears || Control and instrumentation ||Fire protection ||Engine room safety ||





Machinery Spaces.com is about working principles, construction and operation of all the machinery items in a ship intended primarily for engineers working on board and those who working ashore . For any remarks please Contact us

Copyright © 2010-2016 Machinery Spaces.com All rights reserved.
Terms and conditions of use
Read our privacy policy|| Home page||